2 of the biggest Cloud providers offer Cloud foundation training content and certification: Azure Fundamentals (AZ-900) vs AWS Cloud Practitioner (CLF-01). How do they measure up?
Disclaimer: Information is correct as of 26th December 2019. Certification requirements change very frequently.
---
Certification Path
For both Cloud providers, foundation certification is not a compulsory prerequisite for other certifications. This flexibility allows people with different level of skill-sets to choose their own starting point in Cloud certification.
Verdict: Draw
---
Skills Measured
Comparing Azure Fundamentals and AWS Practitioner Essentials exam topic weightages:
Azure
Understand cloud concepts (15-20%)
Understand core Azure services (30-35%)
Understand security, privacy, compliance and trust (25-30%)
Understand Azure pricing and support (20-25%)
AWS
Cloud Concepts (26%)
Security and Compliance (25%)
Technology (33%)
Billing and Pricing (16%)
Both Cloud providers have very similar views on what they think is foundational to exam-takers. There is not too much to nitpick here.
Verdict: Draw
---
Learning Resources
Both AWS and Azure has free online training materials to help you pass the certification exam. However, the way that these training materials are presented to learners are different.
AWS Cloud Practitioner Essentials training on aws.training website requires you to log into your Amazon account and register for the course before you can access the content.
Within the modules are lessons which when clicked, pops up a window with the lesson video. I have noticed that the video content now features actual humans presenting the lessons, unlike the previous edition where it is mostly just running through deck of slides with someone narrating.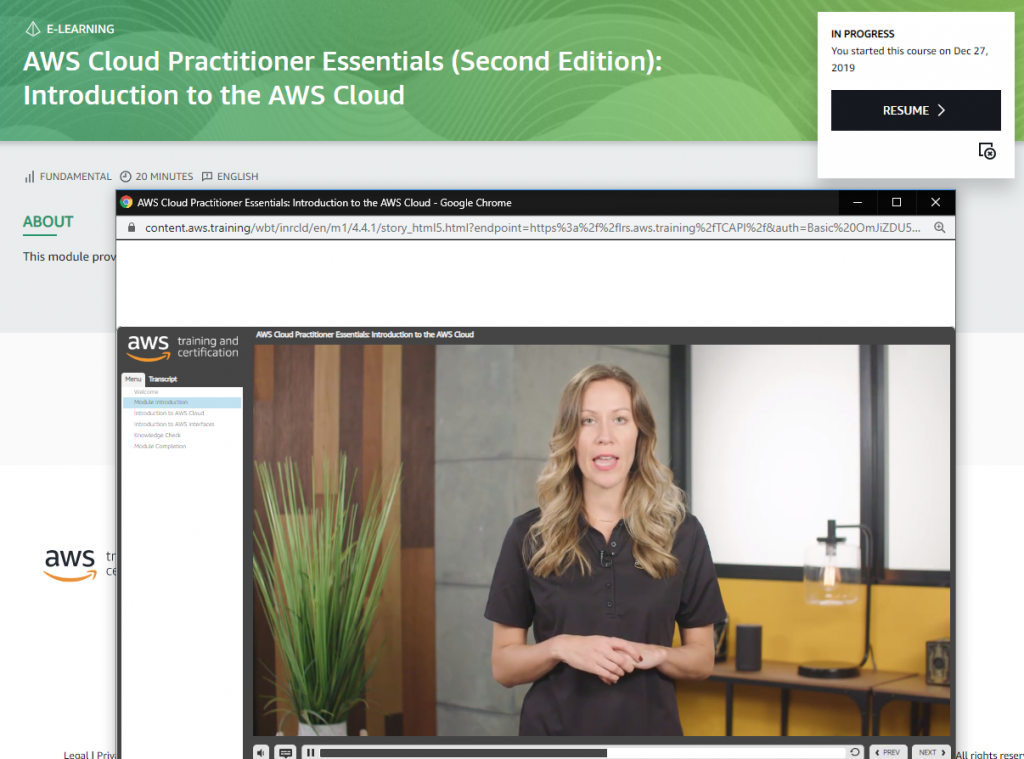 Nearing the end of the module, there will be a "Knowledge Check", in a form of multiple-choice questions aimed to test your knowledge from the section.
Azure Fundamentals are delivered through the Microsoft Learn website and doesn't require you to sign in before being able to access its content.
The content is presented like an article, with videos and graphics embedded, allowing you to read the content at your own pace. Reading off an article might be less engaging visually, but Microsoft Learn gamifies the process by awarding you with XP each time you complete an article.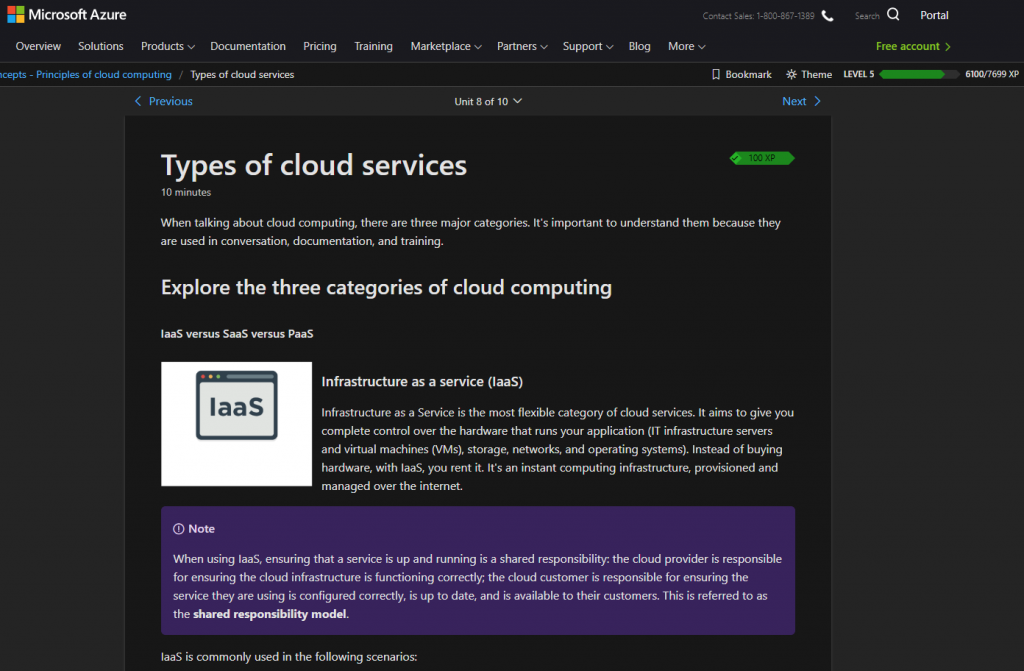 Another impressive thing Azure Fundamentals training has is the in-browser live Sandbox feature which allows you perform hands-on practice in a actual Azure environment with a Sandbox account.
Azure alsl gives you the option to choose between "Light", "Dark" and "High Contrast" themes.
Verdict: Azure wins
---
Cost, Delivery Method and Language
Comparing Azure Fundamentals and AWS Practitioner Essentials exam cost, delivery method and language:
Azure
Cost: 106 USD
Delivery:

Online proctored
Test Center

Language

English
Japanese
Korean
Chinese
AWS
Cost: 100 USD (Singapore)
Delivery:

Online proctored
Test Center

Language

English
Japanese
Korean
Chinese
The cost, delivery and language available for both exams are very similar. AWS's online proctored delivery was only available from August 2019, and only applies to Cloud Practitioner Essentials. On the other hand, Azure Fundamentals and other Microsoft exams can all be delivered through online proctoring. Disclaimer here, I have no experience with any of the Cloud provider's online proctored exams, so I cannot really comment on the online exam experience.
A major difference here is AWS's 50% exam discount voucher if you do pass this exam. The 50% discount voucher can be applied to a future AWS associate-level exam which is priced at 150 USD. This potentially nets you a 75 USD value if you do use it there. AWS Cloud Practitioner Essentials becomes a good entry-point for exam-takers before pursuing more AWS certification.
Verdict: AWS wins
---
Final Thoughts
Without jumping into the rabbit hole of comparing market share, certification recognition and job opportunities, both AWS and Azure have rather similar offerings for their Cloud foundational certification and training.
In my own opinion, Azure does have the slight edge due to its comprehensive free learning resources that can hold its weight against any of the other paid Cloud MOOC providers.